About us
The Trusted Bird Proofing and Bird Deterrent Specialists in New Zealand.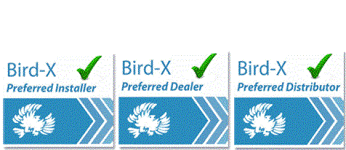 We at Bird Control New Zealand are dedicated to solving bird pest problems in agriculture, industrial, residential and airport/ aviation environments.
We cater to the agriculture, horticulture and viniculture/ viticulture industries and help them to increase their revenues and profits by minimising bird damage and crop loss. Get rid of annoying birds and other pests in your farm, shed, airfield, vineyard or car yard with Bird Control NZ's bird proofing and bird repellent solutions! As a family-operated business, we strive to deliver the best bird control services at very competitive rates!
Having provided effective bird repellent products and safety protection services for more than 10 years, Bird Control NZ has gained a great reputation and experience in the bird and pest control industry.
Why you can trust Bird Control New Zealand:
- We solve OH&S bird and animal problems.
- We supply bird repellent systems and animal control products that can effectively remove pestering birds and animals all day and night.
- We will help turn your residential or commercial farms, sheds, airfields, vineyards and car yards into a bird- and pest-free zone.
- We offer the best and most advanced automated laser bird repelling systems in the market.
- We use the latest ultrasonic and sonic bird repellent devices for guaranteed protection.
- We offer sound repellers, bird lasers, visual deterrents and physical barriers which can be used stand-alone or in combination for even greater effectiveness.
- We work with market-leading manufacturers, suppliers and universities.
- New Zealand owned and operated with over 10 years experience in bird control.

If you're having troubles with birds, Bird Control New Zealand can help you! We design customised bird proofing and bird repellent solutions to ensure that you'll get the right solution for your pest problem. Call us today or enquire via our website!
Our clients
Fonterra, Sanford, Armitage Williams Construction, Salus Safety NZ, Villa Maria Wines, South Pacific Seeds (NZ), Vanguard Group, A J Cowley, Deakin University Melbourne, Launceston Port Authority, Inghams Chicken processors Sorell Tas, Hawkings, Adams Pest Control, Light Flight NZ, Meadowbank Vineyard Glenorra Tasmania and many more.
Client scenarios
Bird Control New Zealand has had great success repelling birds at Farm Fields, Orchards, Vineyard, Airplane Hangars, Lakes, Parks, Swimming Pools, Food Processors, Airfields, Stadiums, Factories, Warehouses, Buildings and Schools.
Contact Us
Bird Control New Zealand
PO Box 6690
Upper Riccarton
CHRISTCHURCH 8442, NEW ZEALAND
Phone: +64 3 341 5625
Email: info@birdcontrol.co.nz
Enquiries: Please use our website form to contact us.